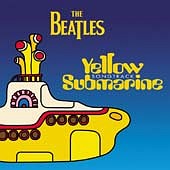 Yellow Submarine
Songtrack
RECORD LABEL: Apple (Capitol)
CATALOG NUMBER: CDP 7243 5 21481
RELEASE DATE: September 14, 1999
NUMBER OF TRACKS: 15
TRACK LISTING:
All songs composed by Lennon/McCartney unless otherwise specified.
Background
Over the last few years, there has been a resurgence in older movies being digitally cleaned up and restored to their original condition, and also being re-released in theaters across America. During 1999, two Beatles movies were restored and shown in selected theaters across America. The first was A Hard Day's Night. The second was Yellow Submarine.


The movie Yellow Submarine had long been out of sight and out of print since the early 1980's. Since it's arrival in theaters in 1968, the original master of the movie had been gradually showing signs of decay and wear. Now, some thirty-odd years since it's debut, the movie Yellow Submarine has been digitally restored and remastered, with footage reinserted into the film. The Hey Bulldog segment of the film was removed from copies in some countries including the U.S. Now, this segment has been added back to the movie for Beatles fans in America to see and enjoy.
Coinciding with the movie's restoration and re-release was this CD titled Yellow Submarine Songtrack. Not to be confused with the original Yellow Submarine film soundtrack, Songtrack contains all the actual Beatles songs used in the movie. Originally, this was to have been done in 1968, but instead only six Beatles songs with movie music by George Martin and orchestra were used for the soundtrack. These fifteen Beatles classics were for the first time digitally remastered with onetime Beatles engineer Geoff Emerick giving final approval over the digital remastering.
As an added bonus to Beatles fans, cable channel VH-1 showed a special on the making (along with the remastering) of both the Yellow Submarine movie and songs. Included with this special was a promotional film of the Beatles performing the song Hey Bulldog at Abbey Road Studios in February, 1968. This promotional film was initially chopped up and used for another Beatles promotional film, Lady Madonna. However, the chopped up segments were found and film technicians were able to put back together this video and also clean it up for Beatles fans to see and enjoy as well.
Back To Apple Scruffs Home Page