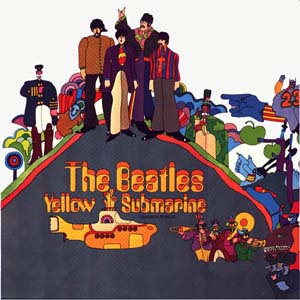 Yellow Submarine
RECORD LABEL: Apple
CATALOG NUMBERS: U.K.: PMC 7070 (mono);
PCS 7070 (stereo); U.S.: SW-153
DATE OF U.K. RELEASE: January 17, 1969
DATE OF U.S. RELEASE: January 13, 1969
CD CATALOG NUMBER: CDP 7 46445 2
NUMBER OF TRACKS: 13
TRACK LISTINGS:
Only A Northern Song (Harrison)
It's All Too Much (Harrison)
Pepperland*
Sea of Time*
Sea of Holes*
Sea of Monsters*
March of the Meanies*
Pepperland Laid Waste*
Yellow Submarine in Pepperland*
Songs marked with an asterisk (*) is additional film music by George Martin and orchestra.
All songs composed by Lennon/McCartney except as specified
Background:
What would you do if you received a phone call from John Lennon at three in the morning telling you "Wouldn't it be great if Ringo were being chased around by a Yellow Submarine?" If you were Al Brodax, you would probably wind up making a full length feature cartoon movie titled Yellow Submarine. This is how cartoonist Al Brodax got involved with the Yellow Submarine project.
Al was no stranger to the Beatles. He helped work on the Saturday morning Beatles cartoons shown in the US between 1965 and 1969. In addition, Al also worked at King Features Syndicate (responsible for the Popeye cartoons). Al Brodax had been approaching the Beatles for several years wanting to do a full length movie with the Fab Four as cartoon characters looking quite different than their Saturday morning counterparts.
Now, having received the Beatles go ahead, Al Brodax along with Erich Segal (he of Love Story fame) went out to create a story centered around a submarine captain named Fred who enlists Ringo and the other Beatles to go to Pepperland where the Blue Meanies and other assorted villians were trying to keep the good citizens of Pepperland from expressing joy, love, and laughter. Thus, it was up to The Beatles (and Fred) to come to the rescue of Pepperland, the underlying theme of the movie being "all you need is love".
Songs for the Yellow Submarine soundtrack were being worked on during the sessions for Sgt. Pepper, with Hey Bulldog being worked on in early February, 1968 (the songs Yellow Submarine and All You Need is Love were already released on previous albums). Initially, there were plans to include other previously released Beatles songs that were also featured in the movie (i.e.= Nowhere Man, Lucy in the Sky With Diamonds, Baby,You're a Rich Man, etc.) but this idea was scrapped. Side 1 features the Beatles songs from the movie with Side 2 featuring original movie music by George Martin and orchestra.
Of note here, is that the only contribution the Beatles made to the Yellow Submarine movie was their four new songs, and a cameo appearance by all four Beatles at the end of the movie with John Lennon spotting Blue Meanies "within the vicinity of this theater." The Beatles did not lend their voices to their cartoon counterparts. In fact, it has been said that the four people responsible for the cartoon Beatles voices were not invited to the movie's premiere in London, in order to avoid confusion with Beatles fans. The four people who provided the voices of the Beatles were: John Clive (John); Geoffrey Hughes (Paul); Peter Battan (George); and Paul Anglius (Ringo).
The film Yellow Submarine premiered in London on July 17, 1968 with the U.S. premiere in New York on November 13, 1968. Both the film and album soundtrack did very well although there was some mild criticism concerning the Beatles creating only "half" an album with six songs plus George Martin's movie music. Whatever the case, The Beatles once again had provided a hit soundtrack album.
Back To Apple Scruffs Home Page