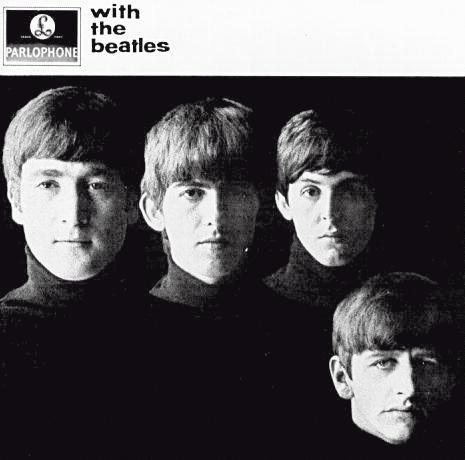 With The Beatles
RECORD LABEL: Parlophone
CATALOG NUMBER: PMC 1206 (mono);
PCS 3045 (stereo)
DATE OF U.K RELEASE: Nov.22, 1963
DATE OF U.S RELEASE: Album wasn't issued
in the U.S. until 1987 as a CD.
CD CATALOG NUMBER: CDP 7 46436 2
NUMBER OF TRACKS: 14
TRACK LISTING:



All songs written by Lennon/McCartney unless otherwise specified.
Background
George Martin and Brian Epstein had a plan. They would try (with some success) to release a Beatles' single about every three months, with two albums a year, one around Christmas time.

Thus, about a month after releasing the album Please Please Me, The Beatles were back in the studio to record their second album for Parlophone. In between then, the Beatles wrote and recorded a single for release titled From Me To You b/w I'll Get You
This new album, titled With The Beatles, contains basically the same format as the Please Please Me album, except not one single was released from the album. Unlike the U.S. record industry, where singles are released to promote an album, the record industry in England felt that singles and albums should be treated as separate items.Thus, some Beatles' albums never had singles released from them and With The Beatles was no exception.
With The Beatles contains 14 songs, 7 of which were Lennon/McCartney originals with George Harrison making his writing debut with a song he wrote while sick in bed titled Don't Bother Me. The remaining songs were song covers that The Beatles were also using as part of their stage act.
Meanwhile, with the success of Please Please Me and the album With The Beatles topping the British charts, George Martin and EMI records tried to get The Beatles'records released in the U.S. EMI's American label, Capitol Records rejected the offers initially, so the group's first album ended up with Vee-Jay records. Titled Introducing The Beatles,Vee-Jay released almost all of the album tracks from the Please Please Me album plus the From Me to You single. The American public's response was not responsive this time around. It wouldn't be until the single I Want To Hold You Hand would get the ball rolling and make The Beatles a household name in America.
Back to Apple Scruff Home Page