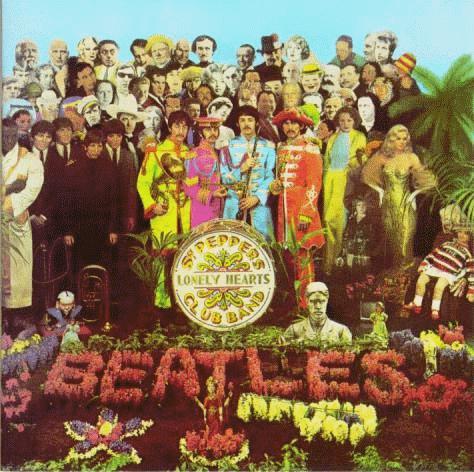 Sgt. Pepper's
Lonely Hearts Club Band
RECORD LABELS: Parlophone (U.K.) ;
Capitol (U.S.)
CATALOG NUMBERS: U.K.: PMC 7027 (mono) ;
PCS 7027 (stereo); U.S.: SMAS-2635
CD CATALOG NUMBER: CDP7 46442 2
DATE OF U.K. RELEASE: June 1, 1967
DATE OF U.S. RELEASE: June 2, 1967
NUMBER OF TRACKS: 13
TRACK LISTING:
All songs composed by Lennon/McCartney except where indicated.
Background
"Well, that's it, I'm not a Beatle anymore." George Harrison was quoted as saying as he relaxed on the plane that took the four tired, wearied Beatles back to England from the U.S. Touring for the group had become a continuous loop of airports, hotels, concert stages, hotels, airports, etc. The Beatles knew early on that their fans weren't at the concerts to hear them sing, but just to pay homage to the group. They also fluffed lyrics, sang off key and off beat for most of their concerts. Even John Lennon said that they could put four wax dummies of the Beatles up on stage and nobody would know the difference. And so, on August 29, 1966, The Beatles played San Francisco's Candelstick Park as their final concert in front of a live audience.
Now, after two months of persuing individual projects and vacationing, The Beatles reunited in November, 1966 to record what many people consider their masterpiece. If the critics thought the album Revolver couldn't be outdone, then Sgt. Pepper's Lonely Hearts Club Band must have been the shock of their lives. Sgt Pepper's Lonely Hearts Club Band is nothing short of sheer brilliance as The Beatles continued to show they had more frontiers to explore. From Lucy In The Sky With Diamonds to Within You Without You, She's Leaving Home to Being For The Benefit of Mr. Kite, the Fab Four dared it's fans to follow them through the realm of psychedalia as was going on during the Summer of Love 1967.
Oddly enough, the first two songs to be recorded for Sgt. Pepper ended up not being on the album, but instead served up as the next Beatles single. Strawberry Fields Forever and Penny Lane would have both fitted Sgt. Pepper perfectly as John and Paul write about memories of places they visited during their childhood. Brian Epstein, however, was concerned that The Beatles hadn't released any new material since August 1966, so he wanted Strawberry Fields Forever and Penny Lane as their next single. The single was released February 1967. Another song, George Harrison's Only A Northern Song was also worked on during these sessions but would not be used until the Yellow Submarine soundtrack was released in January, 1969.
Sgt. Pepper's Lonely Hearts Club Band would be the first Beatles album to have printed song lyrics on the back cover. The front cover also showed the four Beatles, with moustaches, dressed in colorful band uniforms along with an assorted backdrop of famous celebrities the Beatles hand-picked on the cover (John Lennon had wanted Jesus and Ghandi on the cover, but that ended up being scrapped). Even screen star Mae West quipped concerning her addition to the album cover "Why would I want to be in a Lonely Hearts Club?" Free cardboard cut-outs were placed inside the album's sleeve . And lastly, The Beatles wanted the album to be released identically all over the world, including America, where Capitol Records finally fell in line and released a Beatles album that was the same as the British release.
Back To Apple Scruffs Home Page