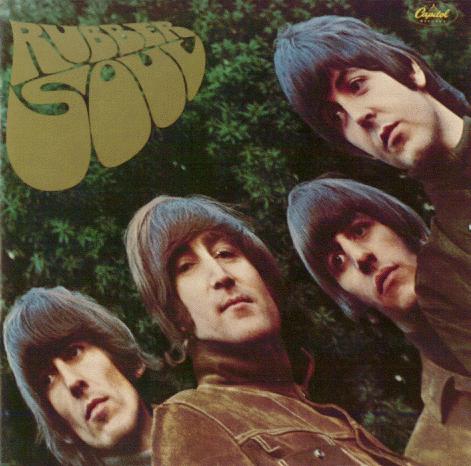 Rubber Soul
RECORD LABELS: Parlophone (U.K) ;
Capitol (U.S)
CATALOG NUMBERS:U.K: PMC 1267 (mono);
PCS 3075 (stereo). U.S.: ST-2442
CD CATALOG NUMBER: CDP 7 46440 2
DATE OF U.K RELEASE: December 3, 1965
DATE OF U.S RELEASE: December 6, 1965
NUMBER OF TRACKS: 14 (U.K Release):
12 (U.S. Release)
TRACK LISTINGS:
(U.K. Release)
(U.S. Release)
I've Just Seen A Face
Norwegian Wood (This Bird Had Flown)
You Won't See Me
Think For Yourself (Harrison)
The Word
Michelle
It's Only Love
Girl
I'm Looking Through You
In My Life
Wait
Run For Your Life
All selections written by Lennon/McCartney unless otherwise specified
Background
As songwriters, John Lennon and Paul McCartney were maturing at such a rapid pace. Within a span of two years, they had come quite a long way from writing pop songs about boy/girl relationships, to writing songs that were more introspective. With the album Rubber Soul, both John and Paul (as well as George and Ringo) were showing great strides in what they could and would do with their music. With songs such as In My Life and Norwegian Wood (This Bird Has Flown), The Beatles were further solidifying the fact that they were not just some ordinary rock and roll band. Rubber Soul became more of a concept album rather than a mere collection of songs on vinyl.
Recording sessions for Rubber Soul were started around the time the final songs for the Help! album were being completed in June, 1965. Once again, under a tight schedule to release an album before Christmas, The Beatles were under pressure to write and record songs sandwiched in-between concert appearances. On the U.K Rubber Soul album, Ringo Starr gets a songwriting credit for the song What Goes On, and George Harrison's writing abilities become more prevelant with two contributions If I Needed Someone and Think For Yourself. George Harrison also plays sitar (for the first time on a rock album) on Norwegian Wood. One new single We Can Work It Out b/w Day Tripper was recorded during the Rubber Soul sessions and released the same day as the Rubber Soul album, but were not included on the album.
Critics (and of course, the public) praised the Rubber Soul album and it became another huge seller for the group. It marked the beginning of more exciting things to come...
Back To Apple Scruffs Home Page