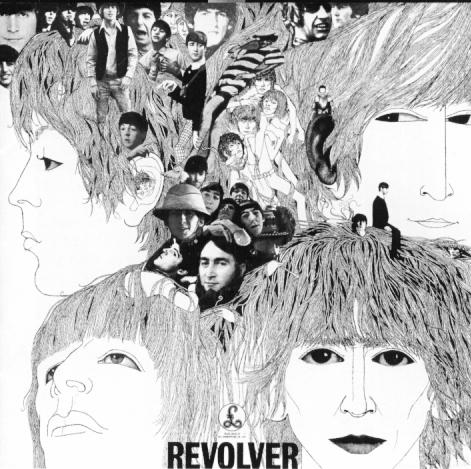 Revolver
RECORD LABELS: Parlophone (U.K) ;
Capitol (U.S)
CATALOG NUMBERS: U.K.: PMC 7009 (mono);
PCS 7009 (stereo); U.S.:ST-2576.
CD CATALOG NUMBER: CDP 7 46441 2
DATE OF U.K. RELEASE: August 5,1966
DATE OF U.S. RELEASE: August 8,1966
NUMBER OF TRACKS: U.K. 14; U.S. 11
TRACK LISTINGS:
(U.K. Release)
(U.S. Release)
Taxman (Harrison)
Eleanor Rigby
Love You To (Harrison)
Here, There And Everywhere
Yellow Submarine
She Said She Said
Good Day Sunshine
For No One
I Want To Tell You (Harrison)
Got To Get You Into My Life
Tomorrow Never Knows
All songs composed by Lennon/McCartney unless otherwise specified.
Background
Experimenting with various sounds and recording techniques,The Beatles created what many critics would call their coup de grace. The album, titled Revolver, showed the group's continung growth in using the recording studio as a canvas as well as a musical laboratory to showcase their new sounds, as well as experiment with sounds which would come to a climax on the album Sgt. Pepper's Lonely Hearts Club Band. Whereas before, the Beatles would go into the studio and try to rehearse and perfect songs they had written, Revolver (like Rubber Soul and the yet-to-be-released Sgt. Pepper) would see The Beatles recording career take a refreshingly new direction for all of us to come along and join in on.
Recording sessions for the Revolver album commenced in early April, 1966. The first song to be worked on for the album oddly enough was originally titled "The Void" until Ringo came up with one of his sayings "tomorrow never knows". Tomorrow Never Knows was a song filled with heavy echo, speeded up backward tape loops of guitars, and John Lennon's voice sounding like it was coming thru some cheap transistor radio.
Also benefitting from the album was George Harrison. He contributed three songs to the album, the most he had put on any Beatles' album up to that time. With songs like Taxman, Love You To, and I Want To Tell You, George was showing he could write songs just as well as John Lennon or Paul McCartney.
During the sessions for Revolver, two singles were released (one from the album itself and one not from the album). The album's lone single was Yellow Submarine b/w Eleanor Rigby . Yellow Submarine features Ringo Starr vocals on an "A" side for the very first time on a Beatles single. The other single was Paperback Writer b/w Rain. Paperback Writer showcased Paul McCartney's bass playing more than on previous singles and albums while Rain featured more studio experimentation with John's vocal looped backwards and recorded on the final verses.
Revolver would become another huge seller for The Beatles. It would also become the last album in the U.S. to be torn apart by Capitol records to create more Beatles albums. All future Beatles' albums would be identical in both the U.S. and the U.K.
The Beatles' lives had changed dramatically by 1966 with their decision to stop touring altogether and concentrate more on their albums and their songwriting. Hence another chapter has ended, and a new one just beginning....
Back to Apple Scruffs Home Page