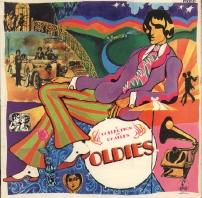 A Collection
Of Beatles Oldies
(NOTE: No lyrics pages available for this album)
RECORD LABEL: Parlophone
CATALOG NUMBER: PMC-7016 (mono);
PCS-7016 (stereo) (Album wasn't issued as a CD)
DATE OF U.K RELEASE: December 9, 1966
(Album wasn't issued in the U.S)
NUMBER OF TRACKS: 16
TRACK LISTINGS:
Side 1
She Loves You
From Me To You
We Can Work It Out
Help!
Michelle
Yesterday
I Feel Fine
Yellow Submarine
Side 2
Can't Buy Me Love
Bad Boy (Williams)
Day Tripper
A Hard Day's Night
Ticket To Ride
Paperback Writer
Eleanor Rigby
I Want To Hold Your Hand
All songs composed by Lennon/McCartney unless othewise specified
Background
A Collection of Beatles Oldies is being presented here in the Beatles Albums section (minus lyrics), because this album was the next album in the line of Parlophone albums to be released.
When The Beatles decided to stop touring in 1966, it was also announced by manager Brian Epstein that no new Beatles albums (or single) would be released in time for the Christmas holidays. As a result, EMI decided on it's own to take Beatles' songs that were hits in England (along with the unreleased song Bad Boy), and turn them into a "greatest hits" album.
Titled A Collection of Beatles Oldies (with the words ...But Goldies! printed on the back of the album sleeve), this was to be a fill-in Beatles album between Revolver and the as-yet-unreleased Sgt. Pepper. The song Bad Boy had not been included on any Beatles album, EP, or single in England up until this album. Bad Boy became an album track on the American LP Beatles VI released June, 1965.
Back To Apple Scruffs Home Page