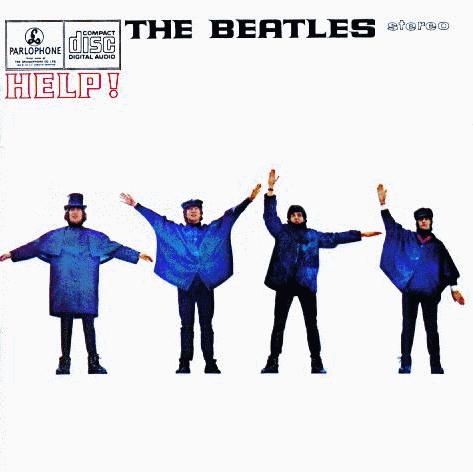 Help! (Soundtrack)
RECORD LABEL: Parlophone
CATALOG NUMBER: PMC 1255 (mono);
PCS 3071 (stereo)
CD CATALOG NUMBER: CDP 7 46439 2
DATE OF U.K RELEASE: August 6, 1965
DATE OF U.S RELEASE: Album released by Capitol Records August 13, 1965. (See U.S. Albums section for track listings)
NUMBER OF TRACKS: 14
TRACK LISTING:

All songs marked with an asterisk (*) are songs from the motion picture Help!.
All songs written by Lennon/McCartney unless otherwise specified.
Background
Like 1964, 1965 became another huge year for The Beatles. Along with recording new albums and singles, The Beatles also toured Europe as well as another visit to the U.S in August, 1965. They would do the Ed Sullivan show again, perform their biggest concert at Shea Stadium in front of 56,000 screaming teenagers, and, back in England, receive a medal from Queen Elizabeth making the Beatles Members of the British Empire (MBE).
Like 1964 also, The Beatles started on a new film and soundtrack. Originally titled Eight Arms To Hold You (later changed to Help!), the new film's storyline centered around a religious cult and a mad scientist chasing after Ringo because of a special ring he was wearing that belonged to the religious cult. Without the ring, the cult could not sacrifice one of their own people, so Ringo becomes the cult's target to be sacrificed.
Work on the Help! soundtrack began in February, 1965, with The Beatles shooting scenes for the movie during March, 1965 and finishing up shooting during May. The Beatles used locations in England, the Bahamas, and even Austria for the "Ticket To Ride" skiing sequences (none of the Beatles knew how to ski well).
Like the soundtrack to A Hard Day's Night, the Help! soundtrack in the U.K consisted of the seven songs from the movie plus additional songs the group wrote and recorded for Side 2 of the album. America, as well , was again treated to the same type of soundtrack as A Hard Day's Night, with the seven movie songs plus additional music from George Martin and his orchestra. Two singles from the soundtrack, Help! b/w I'm Down , and Ticket to Ride b/w Yes It Is were also released.
The movie Help! made it's British premiere at the London Pavillion on July 29, 1965, with the U.S. premiere in New York on August 23, 1965. Like A Hard Day's Night, the Help! soundtrack album would become another million seller for the Beatles worldwide.
Back to Apple Scruffs Home Page