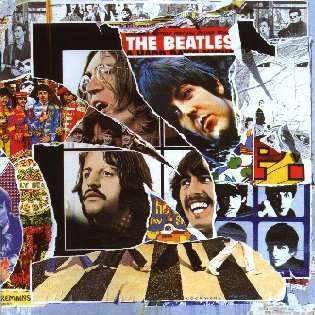 The Beatles
Anthology (Vol.3)
RECORD LABEL: Apple (Capitol)
CATALOG NUMBER: CDP 8-34451-2
DATE OF RELEASE: October 29, 1996
NUMBER OF TRACKS: 50
TRACK LISTINGS:
Note: Songs marked with an asterisk (*) are songs having a lyrics page
Disc One
A Beginning
(Instrumental) (G. Martin)
Happiness is a Warm Gun
Helter Skelter
Mean Mr. Mustard
Polythene Pam
Glass Onion
Junk * (P. McCartney)
Piggies (Harrison)
Honey Pie
Don't Pass Me By (Starkey)
Ob-La-Di, Ob-La-Da
Good Night
Cry Baby Cry
Blackbird
Sexy Sadie
While My Guitar Gently Weeps (Harrison)
Hey Jude
Not Guilty* (Harrison)
Mother Nature's Son
Glass Onion
Rocky Raccoon
Step Inside Love* // Los Paranoias*
(Lennon/McCartney) //
(Lennon/McCartney/Harrison/Starkey)
I'm So Tired
I Will
Why Don't We Do It In The Road
Julia
Disc Two
I've Got A Feeling
She Came In Through The Bathroom Window
Dig A Pony
Two Of Us
For You Blue (Harrison)
Teddy Boy* (P. McCartney)
Medley* :

Rip It Up (R. Blackwell/ J. Marascalco)
Shake Rattle and Roll (C. Calhoun)
Blue Suede Shoes (C. Perkins)

The Long And Winding Road
Oh! Darling
All Things Must Pass* (G. Harrison)
Mailman Bring Me No More Blues*
(R.Roberts/B. Katz/S.Clayton)
Get Back
Old Brown Shoe (Harrison)
Octopus's Garden (Starkey)
Maxwell's Silver Hammer
Something (Harrison)
Come Together
Come And Get It* (P. McCartney)
Ain't She Sweet
[M. Ager (music)/ J. Yellen (lyric)]
Because
Let It Be
I Me Mine (Harrison)
The End
All songs composed by Lennon/McCartney unless otherwise specified
Background
For Anthology 3, there are no new songs to look forward to as there was on Volumes 1 and 2. Here, this final installment of the Anthology series covers the last three years of the Beatles career as a group (1968-1970). Here you will find outtakes from The Beatles (White Album), Abbey Road, and especially Let it Be, where most of the output during the Let it Be sessions consisted mostly of jam sessions involving oldies such as Shake Rattle and Roll, Rip it Up, and others. There were also demos of songs from this period of Beatledom that were destined to be on solo Beatles albums such as George Harrison's All Things Must Pass and Paul McCartney's Teddy Boy. The demo for Badfinger's song Come and Get It with Paul composing and playing on the demo tape is shown here as well.
This final version of the Anthology series caps the end of what Beatles publicist Derek Taylor called "the twentieth century's greatest romance". A splendid time was indeed had by all.


Back To Apple Scruffs Home Page