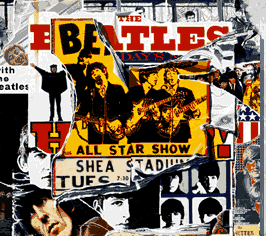 The Beatles Anthology
(Volume 2)
RECORD LABEL: Apple (Capitol)
CATALOG NUMBER: CDP 8-34448-2
DATE OF RELEASE: March 19, 1996
NUMBER OF TRACKS: 45
TRACK LISTINGS:


Note: Songs marked with an asterisk (*) are songs with a separate lyrics page
Disc One
Real Love* (J.Lennon)
Yes It Is
I'm Down
You've Got To Hide Your Love Away
Yesterday
It's Only Love
I Feel Fine (Live)
Ticket To Ride (Live)
Yesterday (Live)
Help! (Live)
Everybody's Trying To Be My Baby (Perkins)
Norweigan Wood (This Bird Has Flown)
I'm Looking Through You
12-Bar Original
(Lennon/McCartney/Harrison/Starkey)
Tomorrow Never Knows
Got To Get You Into My Life
And Your Bird Can Sing
Taxman (Harrison)
Eleanor Rigby (strings only)
I'm Only Sleeping (Rehearsal)
I'm Only Sleeping (Take 1)
Rock And Roll Music (Berry)
She's A Woman
Disc Two
Strawberry Fields Forever (demo sequence)
Strawberry Fields Forever (Take 1)
Strawberry Fields Forever (Take 7)
Penny Lane
A Day In The Life
Good Morning, Good Morning
Only A Northern Song (Harrison)
Being For The Benefit of Mr. Kite
(Takes 1 and 2)
Being For The Benefit of Mr. Kite
(Take 7)
Lucy In The Sky With Diamonds
Within You, Without You (Harrison)
Sgt. Pepper's Lonely Hearts Club Band (Reprise)
You Know My Name (Look Up The Number)
I Am The Walrus
The Fool On The Hill (demo)
Your Mother Should Know
The Fool On The Hill (Take 4)
Hello, Goodbye
Lady Madonna
Across The Universe
All songs composed by Lennon/McCartney unless otherwise specified.

Background
Anthology Volume 2 is pretty much a mirror image of Volume 1 in that it has the other brand new Beatles song Real Love. Real Love was a demo John Lennon had done in the late '70's, and in 1995 the tape was given to Paul, George, and Ringo by Yoko Ono to be made into a finished song. Real Love, like it's predecessor Free As A Bird, suffers from poor sound quality of the demo tape. This was a big job for Jeff Lynne and the other Beatles to work through, but they seemed to have pulled it off as good as can be expected.
Anthology Volume 2 boasts more of the same unreleased music and alternate takes than Volume 1, with Volume 2 dealing with the years 1965-1968. Songs like If You've Got Trouble, which was slated for the Help! album as Ringo's only song; 12 Bar Original, an instrumental recorded during the sessions for Rubber Soul, and That Means A Lot which was also slated for the Help! album but wasn't used. Also on Anthology Volume 2 are different takes of various songs from that period such as Strawberry Fields Forever and I'm Only Sleeping, as well as live appearances.
Back To Apple Scruffs Home Page