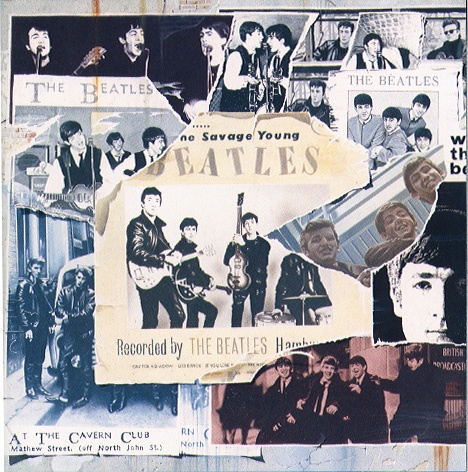 The Beatles Anthology
(Volume 1)
RECORD LABEL: Apple (Capitol)
CATALOG NUMBER: CDP 8-34445-2
DATE OF RELEASE: November 21, 1995
NUMBER OF TRACKS: 60
TRACK LISTINGS:
Note: Songs marked with an asterisk (*) are songs having a separate lyrics page
Disc One
Free As A Bird*
(Written by John Lennon; Beatles version by Lennon/McCartney/Harrison/Starkey)
Speech: John Lennon
That'll Be The Day*
(J.Allison/B. Holly/N. Petty)
In Spite Of All The Danger* (McCartney/Harrison)
Speech: Paul McCartney
Hallelujah, I Love Her So* (R.Charles)
You'll Be Mine
Cayenne (Instrumental)
Speech: Paul McCartney
My Bonnie* (Trad. arr. T. Sheridan)
Ain't She Sweet*
(M. Ager [Music]/ J. Yellen [Lyrics])
Cry For A Shadow (Instrumental) (Lennon/Harrison)
Speech: John Lennon
Speech: Brian Epstein
Searchin' * (Leiber/Stoller)
Three Cool Cats* (Leiber/Stoller)
The Sheik Of Araby*
(H.Smith & F. Wheeler [Lyrics] / T. Snyder [Music])
Speech: Brian Epstein
Besame Mucho*
(C. Velazquez [Music] / S. Skylar [Lyrics])
Love Me Do
How Do You Do It* (M. Murray)
Please Please Me
One After 909 (false starts)
One After 909
Lend Me Your Comb*
(K.Twomey/F.Wise/B.Weisman)
I'll Get You
Speech: John Lennon
I Saw Her Standing There
From Me To You
Money (That's What I Want) (Gordy/Bradford)
You Really Got A Hold On Me (Robinson)
Roll Over Beethoven (Berry)
Disc Two
She Loves You
'Till There Was You (Wilson)
Twist And Shout (Medley/Russell)
This Boy
I Want To Hold Your Hand
Speech: Eric Morecambe and Ernie Wise
Moonlight Bay (E. Madden/ P. Weinrich)
Can't Buy Me Love
All My Loving
You Can't Do That
And I Love Her
A Hard Day's Night
I Wanna Be Your Man
Long Tall Sally
(Johnson/Penniman/Blackwell)
Boys (Dixon/Farrell)
Shout*
(Rudolph Isley/
Ronald Isley/O'Kelly Isley)
I'll Be Back (Demo)
I'll Be Back (Complete)
You Know What To Do* (Harrison)
No Reply (Demo)
Mr. Moonlight (Johnson)
Leave My Kitten Alone*
(Little Willie John/Titus Turner/James McDougal)
No Reply
Eight Days A Week (false starts)
Eight Days A Week
Kansas City / Hey, Hey, Hey, Hey (Leiber/Stoller [Penniman] )
All songs composed by Lennon/McCartney unless otherwise specified
Background
The Beatles reuniting?? Wait a minute, this must be some sort of mistake or maybe somebody's idea of a joke. Well, for the record the Beatles (at least the three surviving ones) reunited for the first time in 25 years in early 1994 to work on a project that actually has it's roots going back to the late '60's /early 70's.
As early as then, The Beatles wanted to do some kind of documentary on themselves, a biography if you will. The title of this biography /documentary was to have been called The Long and Winding Road. Using home movies and 8mm tape collected by Beatles road manager Neil Aspinall, The Long and Winding Road would have told the story of the Fab Four from the days in Liverpool thru megastardom, to eventually the collapse of the Beatles. This project however never got off the ground as fighting and bickering splintered the Beatles throughout the 1970's and even into the 1980's. The no show of Paul McCartney at the Rock and Roll Hall of Fame induction ceremony in 1987 showed that there were still some fences to mend.
As the 1980s turned into the 1990's, there seemed to be more civility coming from the indivdual Beatles, primairly Paul and George. Each has been said to talking to the other on occassion and getting along fine so long as business matters weren't discussed. Even the response to Yoko Ono over the last decade or so had been somewhat smoothed over. So much so, that Yoko gave Paul, George, and Ringo two demo tapes of John singing Free As A Bird and Real Love (it has been also rumoured that two other demos from John were also worked on but were deemed unusable). As a result, in addition to working on the Anthology videos, the three surviving Beatles also decided to get back together again to add instrumental and vocal overdubs to both John Lennon songs.
These two unreleased songs would form the backdrop to the Beatles Anthology series. Anthology 1 covers the early Beatles period from 1958 to 1964. Included on Anthology 1 is Free As A Bird, with John Lennon on lead vocal with Paul and George supplying harmonies as well as vocal parts during the song. The song was co-produced by Jeff Lynne of ELO and Traveling Wilbury's fame. Meanwhile, former Beatles producer George Martin and engineer Geoff Emerick worked on the unreleased Beatles material sitting in the EMI vaults over the last 35 years or so. Much of what was in the vaults had seen their way onto bootleg albums during the '70's. For the first time, many of these bootlegged versions and takes of Beatles songs would see the light of day. Included here is a rare copy of the Early Quarrymen performing That'll Be The Day and In Spite of All The Danger. Besides John, Paul, and George, two other members John Lowe (piano) and Colin Hanton (drums) were in the group at that time.
Also included in Anthology 1 is the Tony Sheridan recordings the Beatles did with him in 1961, songs from the ill-fated Decca Records sessions in 1962 (with Pete Best on drums) and even a couple of songs recorded at Paul McCartney's house featuring Stu Sutcliffe on bass (Hallelujah I Love Her So, You'll Be Mine, and Cayenne). In addtion to unreleased tracks, songs being worked on in the studio, and audio clips of performances, there is also spoken word segments from John Lennon, Paul McCartney, and Brian Epstein.
Back to Apple Scruffs Home Page