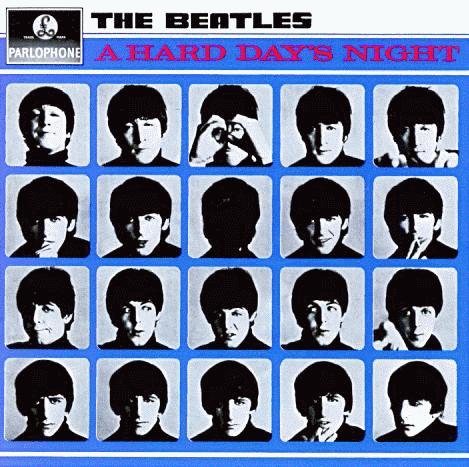 A Hard Day's Night
RECORD LABEL: Parlophone
CATALOG NUMBER: PMC 1230 (mono);
PCS 3058 (stereo)
DATE OF U.K RELEASE: July 10, 1964
DATE OF U.S. RELEASE: Released by United Artists June 26, 1964. (See U.S. version of A Hard Day's Night for track lisitings)
CD CATALOG NUMBER: CDP 7 46437 2
NUMBER OF TRACKS: 13
TRACK LISTING:
All selections marked with an asterisk (*) are songs from the United Artists' film A Hard Day's Night
All songs written by Lennon/McCartney unless otherwise specified.
Background
In 1963 United Artists approached Brian Epstein about making a movie about the Beatles. At the time, the fab four were only popular in England and parts of Europe, so any exposure would have been limited. However, Brian could envision his Beatles up on the big screen larger than life. So an agreement was made between United Artists and Brian Epstein. The movie would begin shooting in March, 1964, with United Artists providing a soundtrack album to coincide with the movie. At this stage, no title was given to this project.
In Between that time, and the start of shooting for the new film, The Beatles world was turned upside down. They had conquered America in February 1964 with T.V and stage appearances, and in April 1964 the top five singles and top two albums on the Billboard charts were all Beatles. The rest of the world was also falling under the spell of Beatlemania as well.
The new film (working title "Beatlemania") chronicles 48 hours in the life of John, Paul, George, and Ringo, with the four being cheeky to the press, babysitting Paul's onstage grandfather, as well as their handlers in the movie, Norm and Shake. After one tiring day of filming, Ringo was asked how filming was going. He replied "It's been a hard day" and then realizing it was nighttime, finished with "day's night".Thus, the title of the movie became A Hard Day's Night.
With the movie now titled A Hard Day's Night, John and Paul needed to write songs for the movie including the title track. One song, Can't Buy Me Love was already released as a single, and would become part of the movie soundtrack along with six other songs. In addition, the U.K. album contained six brand new songs that were put on Side 2 of the record, but were not used in the film. American record buyers, however, were given a soundtrack with the seven movie songs plus movie music from George Martin and his orchestra. The reason was under an agreement between United Artists and Capitol records, United Artists could only use the songs from the movie as part of their soundtrack album.
The movie A Hard Day's Night was received with critical acclaim. Critics compared the antics of the Beatles to the Marx Brothers, with the film and the soundtrack a major success worldwide.
Back To Apple Scruffs Home Page